Clubtime
Each LINX Member receives 60 minutes per month of FREE Clubtime for each 50 minute drop-off class they are enrolled in.
---
For children 3 years and older.
---
Clubtime allows families the flexibility to drop off early or pick up late. It can even be used on days when your child does not have a class! The room is set-up with coloring, games, and arts and crafts stations. The room is staffed by favorite LINX team members who are ready to engage with children and create a fun Clubtime experience.
When can I use Clubtime?
Use Clubtime on Mondays - Fridays between 1:00pm - 6:30pm and Saturdays 9:00am-1:00pm. With our state-of-the-art finger scan technology, members "scan" in to start the "timer" for Clubtime usage. When you pick up your child(ren), a LINX Leader "scans" members out and the "timer" stops. Clubtime is the perfect solution for children who love being at LINX and parents who need a little extra "free" time. Please note there is an hour and a half limit per day. Book your family's clubtime here »
Where can I see my Clubtime balance?
You can log in to your Family Account to view your Clubtime accruals and usage. Please note that Clubtime minutes do not roll over. You must use your monthly minutes within the month. Clubtime is not transferable to siblings.
Can I purchase additional Clubtime?
LINX Members can purchase additional Clubtime in advance or on an as-needed basis. If you anticipate that additional Clubtime would come in handy, you may Reserve Clubtime which allows you to reserve your child for Clubtime!
*Additional Clubtime may be purchased at $20/hour.
Movie Nights
Children join their favorite LINX Staff for an evening of dinner, movie, and playtime with friends!
---
For children 3 years and older.
---
LINX members ages 3+ are invited to attend this FREE drop-off event! Movie Nights typically takes place on the 1st Friday of each month. We show an age appropriate movie, and compliment the evening with a pizza dinner and fun activities run by favorite LINX Staff.
Guests are welcome to attend only if there is space. The guest fee is $45.00.
Advance sign up is required. Registration closes at 6:00pm on the Thursday prior to event (or sooner if the event reaches capacity). Sign up online or by calling 781-235-3210.
View all upcoming Movie Nights
LINX Bux
LINX Members can earn LINX Bux during each class and spend them on fun prizes!
---
What are LINX Bux?
LINX Leaders work to foster the development of good character and values in each of their classes. Kids are encouraged to be respectful, kind and nice to one another. When members are active participants in class who make good decisions and are good listeners they earn LINX Bux! LINX Bux is our positive reward system. Members look forward to earning and saving up their LINX Bux so they can trade them in for gift certificates to their favorite toy stores or donate to their favorite charity!
How many LINX Bux will my child earn?
LINX Leaders are authorized to award up to 10 LINX Bux per child per class.
How can I see my child(ren)'s LINX Bux balance?
You can see your child(ren)'s LINX Bux balance by visiting LINX online, scrolling over "Members" in the main menu, and then clicking on "Your LINX Bux". Additionally, children can see their LINX Bux balance on the computer screen each time the scan their finger to sign in and out of class.
What can my child(ren) get with LINX Bux?
The LINX Bux Store is now open. 150 LINX Bux = $5 or 300 LINX Bux = $10! Children may choose to redeem LINX Bux for a gift card. They also have the option to donate their LINX Bux to any school or to one of the organizations listed below.
Get a Gift Card:

Wellesley Toy Shop Gift Card, ($5 or $10) - Located in Wellesley
Little Bits Toys Gift Card, ($5 or $10) - Located in Wellesley and Natick

Donate Your LINX Bux:

Phinney's Friends
Susan G. Komen
Cystic Fibrosis Foundation
Nothing But Nets
Arbor Day Foundation
The Hunger Project
National Alliance to End Homelessness
Human Rights Watch
American Red Cross
Save the Children
Special Olympics
Alzheimer's Foundation
International Peace Institute
Homes for Our Troops
American Cancer Society
Juvenile Diabetes Research Foundation
The School of Your Choice!
How do we redeem LINX Bux?
LINX Members can request to redeem LINX Bux at any time. Their teachers/instructors will assist them with this process either before or after class time. Children can also redeem LINX Bux during Clubtime. Unfortunately, we are not typically able to accommodate LINX Bux requests during our busiest arrival and dismissals times.
MyLINX Scrapbook
Parents of LINX members see pictures of their child(ren) in class and receive updates about class activities and their child(ren)'s progress.
---
For all students.
---
MyLINX Scrapbook is our custom designed and developed tool to enable parents to stay up-to-date on their children's classes. All of this is done with careful attention to ensure that the pictures and information about your children are password-protected and only available to the families whose children appear in each of the updates. Specifically, although you can view the images on your computer, if you send a link to the pictures to a family member or friend, they will not work unless they are logged into your account. If you want to save or share pictures, you can download them to your computer.
Open Play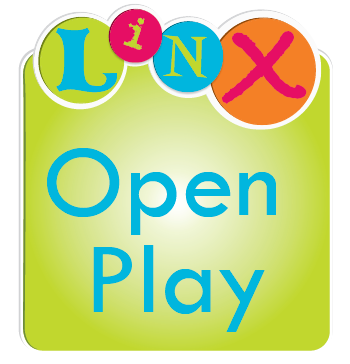 Each LINX member may come to Open Play as frequently as they like!
---
For children 0 - 4 years.
---
Open Play is a special opportunity for grown ups and children to connect with each other and with friends. The space is open and bright and offers a variety of play options using both small and gross motor skills:
soft play mats for movement and simple gymnastics
an age-appropriate bouncy house
rotating toys for each age level of infant, toddler, and preschooler
games for toddlers and preschoolers
Friday's 10:30am - 12:00pm!